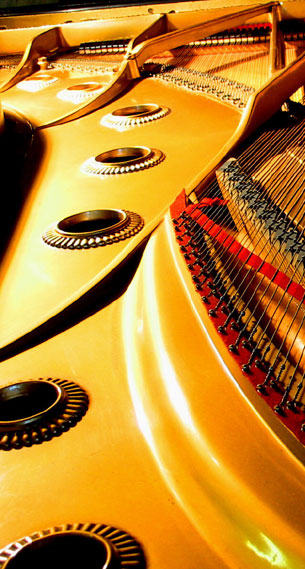 (Reviewing Francois Houle Tentet including Jon Ballantyne, piano)
"The biggest surprise of the festival was François Houle's Tentet"
JazzTimes Magazine read full review
"He often piled on these dense, rumbling left-hand figures, reworking ideas over and over, turning his sources into thick, complex abstractions."
Globe and Mail read full review
"His embellishments spare and well-placed, Ballantyne focused on crafting tonal ideas and beautiful lyrical passages. Yet at times he was also brash in his obvious command of the piano, pulling out pulsing bass line and utilizing the instrument to its full potential in solo performance."
Star Phoenix read full review
The 4 pm Connoisseur Series at the Library and Archives Canada theatre presented yet another outstanding performance, this time from Canadian expat pianist Jon Ballantyne and his outstanding quartet…
All About Jazz read full review
…Although Jon Ballantyne has been a top-notch pianist for nearly half his life, the 41-year old New Yorker said that he's been mulling the question: "Have I got something original to offer?" At the Library and Archives Canada auditorium yesterday, the Saskatchewan native's quartet supplied the musical answer-a brash, audacious Yes.
…Ballantyne is definitely onto something original and worthy of greater attention.
Peter Hum, Ottawa Citizen read full review
"There's a barrelhouse presence in the hands, which seem to float until they land with precision on a big chord"

The Star Phoenix, 2005 read full review
…The best concert of the day, for my money, was pianist Jon Ballantyne's at the Memorial Art Gallery…
Democrat and Chronicle read full review
(Rochester, NY)
…A MUCH APPRECIATED CONCERT IN THE Museum of Modern Art was performed by the duo of Swedish saxophonist Kirster Andersson and New York pianist Jon Ballantyne: the climax of the festival, at least one of them.
SmeJuornalen, (Malardalen, Sweden)
…Ballantyne delivered a memorable performance at Theatre Gesu (Montreal Jazz Festival) in a trio with bassist Drew Gress and drummer Gene Jackson. It was an opportunity to appreciate Ballantyne's unusual compositions and out-of-the-way voicings on piano.

The Montreal Gazette
…Merely as fine a young, modern pianist as you're likely to encounter this decade…

The Toronto Star (1998)
... There has been a disproportionate number of pianists among Canada's jazz exports in recent years. The country that gave the world Oscar Peterson and Paul Blay back in the 1950's has sent a half-dozen interesting younger players New York's way of late…No one in that group is more interesting, no one fresher, than Jon Ballantyne, who worked a few years ago with tenor saxophone star Joe Henderson but has otherwise pursued a career under his own name. As well he might: He's far too self-directed a jazz musician to swing to any drummer but his own.

…The music was tremendously exiting and, in terms of it's individuality, s step or two beyond anything Ballantyne's contemporaries have played on the Senator's grand piano.

The Globe and Mail
…Jon Ballantyne brought exceptional virtuosity to bear on the 88's at the Library Theatre.

The Edmonton Journal
…Progressions that had an Eastern flavor would overlap with sounds that brought to mind vintage New Orleans pianist and the embracing melodies of standards would give way to jarring explorations that were suddenly reeled into another sphere.

The Edmonton Sun
…The pianist's style is almost the opposite of the Oscar Peterson school of playing, leaving lots of space between notes rather than obliged to fill them in with technique, of which he has plenty.

The Windsor Star
…Ballantyne was as good as it gets on piano, with solos on Monk's Ask Me now and Ellington's Take the Coltrane that will rattle around the memory bank for quite a while.
…It was an encyclopedic performance, drawing liberally from every period of jazz history and weaving those elements into a resolutely modern, bristlingly individualistic statement

The Montreal Gazette